Don't Risk Your Assay Results, Start Using Molecular Grade Ethanol
Introduction
Ethanol precipitation is a crucial step in nucleic acid isolation. It usually occurs by ensuring the correct concentration of positive ions is present and bringing the ethanol concentration to at least 64%. Once these conditions are achieved, we will leave the mixture to incubate and the DNA, together with some salts, will precipitate from the solution. This is usually followed by a centrifugation step to collect the precipitated DNA as a pellet which sometimes can be visible to the naked eye, depending on the amount of DNA and its purity. The supernatant is removed, and the pellet is washed multiple times with 70 - 80% to remove residual salt from the leftover supernatant. After multiple wash steps, the pellet DNA is air-dried and dissolved in your desired buffer.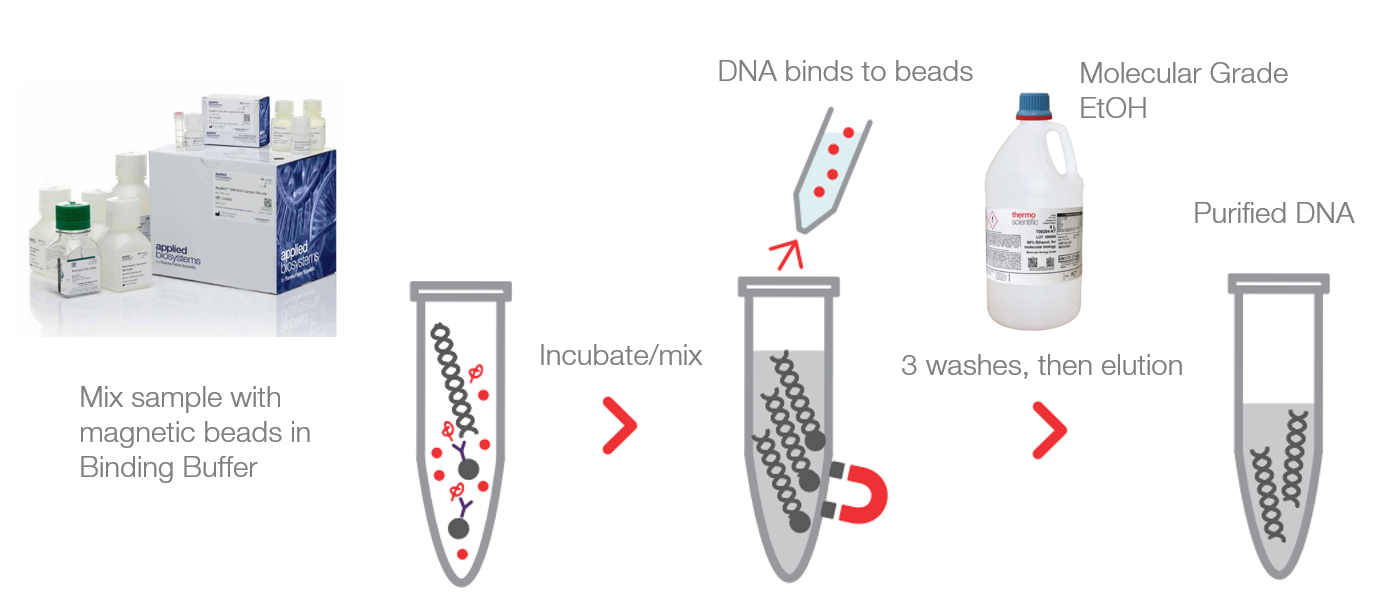 Applied Biosystems™ MagMAX™ magnetic beads kits in action
How much ethanol do you require?
The ethanol you require is dependent of the assay in which you are conducting. For example, for a MagMAX kit , you would require ~1.5 mL of 80% ethanol per reaction/prep per test. If you were to run one 2000 reaction kit a day, you would require 3 L of 80% ethanol every day!
Do you really need molecular biology grade ethanol?
Many labs continue to utilize denatured ethanol for their DNA purification due it lower price range. However, that is not recommended as denatured ethanol usually contains various amount of impurities and contaminants (RNase, DNase, etc.) which could cause complication in your downstream procedures. Instead, with molecular biology grade Ethanol, suppliers are required to conduct the several tests to ensure they are ready for molecular work:
- Absence of DNase, RNase, Protease
- Submicron filtered
- Low metal content
- Low endotoxin content
- Lot-to-lot uniformity
Tests
Specifications
Appearance
Clear, Colorless Liquid
Assay
Ethanol Assay
Water Assay

78% to 82%
18% to 22%
Color (APHA)
<10
DNase
Not detected
RNase
Not detected
Residue after Evaporation
<0.001%
Substances Darkened by Sulfuric Acid
Pass Test
Substances Reducing Permanganate
Pass Test
Tests conducted for Thermo Scientific Molecular Biology Grade Ethanol
Scaling up your ethanol workflow
Ethanol is a crucial reagent for various applications such as:
- Purification and precipitation of nucleic acids (DNA and RNA) and proteins
- Staining and destaining solutions
- Cell and tissue dehydration prior to embedding
- Extraction medium
- Chromatographic analysis
By using the appropriate grade of ethanol, we can minimize contamination as much as possible and ensure confidence in our assay outcome. If you think diluting ethanol is too time consuming and laborious, we offer molecular grade ethanol in both 80% and 100%, spend less time diluting and spare more time for your experiments and assay. If you are still unsure of the ethanol requirements in your lab, feel free to speak to our experts to learn more!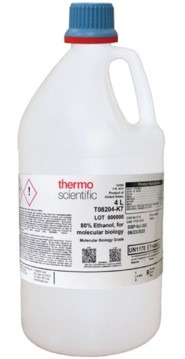 Contact Us