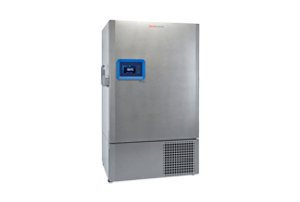 Energy Efficient & Sustainable for the Future
Refrigerators, freezers, and cryogenic equipment are used in industrial, clinical, and research laboratories to keep samples cool. Samples are stored in liquid nitrogen (-196°C to -210°C) using cryogenic equipment. Internal temperatures will remain at or below -196°C if liquid nitrogen is continuously replenished. Ultra-low-temperature freezers, high-performance refrigerators, and laboratory freezers are all part of the Thermo Scientific™ TSX Series. V-Drive technology is used in all of them, and it adapts to usage patterns without sacrificing sample protection or performance.
Contact Our Specialist
Laboratory Refrigerators
General-purpose laboratory refrigerators are used to store reagents, media, proteins, and other samples and solutions. Typically, they do not include a freezer compartment. Freezer defrost cycles may affect temperature stability. Choose from upright, undercounter, or benchtop units with solid or glass doors. Other features may include programmability, temperature alarms, defrost options, and surface finishes.
Freezers
Laboratory freezers are used for short- or long-term storage of biological, pharmaceutical, and other laboratory samples within specific temperature ranges. Designs vary based on sample types and space requirements.
Typically, laboratory freezers:
Include upright, chest-style, benchtop, or under-counter models
Offer variable structural options (solid or clear doors, shelves or drawers, multiple internal compartments, etc.)
Range in capacity from 1.3 cu. ft. (L) to 80 cu. ft. (2,265.35L)
Require manual defrosting to remove ice build-up
Thermo Scientific™'s proven cold storage and sample preparation solutions offer sample protection for a wide array of sample types and an even larger range of storage conditions—from 4°C high-performance laboratory refrigerators to –196°C cryogenic freezers. Discover why researchers worldwide protect more than 2 billion samples with Thermo Scientific™ cold storage equipment and consumables.